Turn Issue Chaos into Project Management Paradise on Jira Cloud and Jira Server
We're excited to announce the latest update from our team: Issue Organizer has gotten a makeover!
We originally introduced Issue Organizer in 2014 and, thanks to the feedback we've received from initial users, we realized the add-on needed some additional features to make it really efficient in the eyes of our users. So we've been working hard and making those updates.
Here's what to expect in the new and improved Issue Organizer:

More user-friendly setup with more drag and drop functionality

Now available for Jira Server

A cleaner interface

Now available for personal boards

Fully based on existing Jira structures, for quicker setup and filtering
What is Issue Organizer for Jira?
Issue Organizer is an add-on for Jira that helps individuals and teams stay organized with ongoing projects. It's essentially a tree grid that lets users visualize issues in Jira by grouping, ordering, and filtering by any existing Jira field. Grouping can be adjusted on the fly and all updates made in using the app can be seen by other users in the organization in real time.

Issue Organizer lets you arrange links and subtasks as part of each hierarchy, allowing the user to customize their view of individual or multiple projects, sorting by Issue, Epic, Assignee, Status, Version, Sprint, among other fields.
It also lets teams visualize all issues from a board at one time without paging, and makes modification quick and easy, by dragging and dropping issues into place. Edits and task assignments can be made straight in the app view, and everything done in Issue Organizer is synchronized with Jira automatically—no page refresh required.
Our tree grid add-on is flexible enough to accommodate work issues for agile teams, requirements engineering, waterfall projects and Jira Service Desk.
We built Issue Organizer to run with Jira, not beside it. The add-on includes quick filters, which means you can instantly use the filters previously created for your Jira boards without replicating each filter in the add-on.
Here's a taste of what you can do in Issue Organizer
View one or multiple projects simultaneously. Organize issues, epics, bugs, and stories to get a clearer overview of project progress and team workload: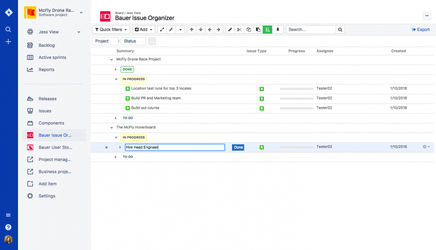 Edit stories, epics, and bugs on the fly. Assign issues and update issue status right in the add-on: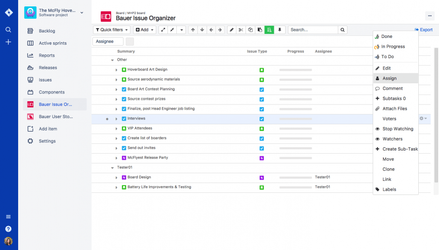 Sort open issues in Jira Service Desk: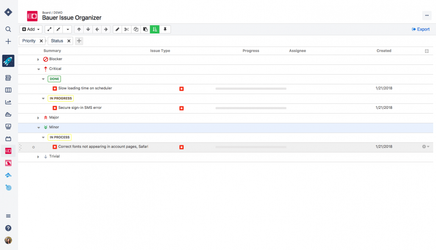 We think you'll love the updates! Issue Organizer's tight integration with Jira's existing filters and features allows for fast, easy setup, so you'll be up and running in minutes.
Give Issue Organizer a try today and organize Jira the way you want! Download Issue Organizer at the Atlassian Marketplace.